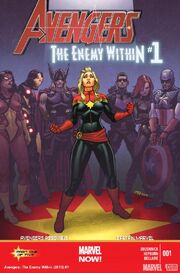 This is the first issue in the Enemy Within Crossover. It is continued in Avengers Assemble no. 16
Solicitation: Can't keep a good Captain down! Vicious echoes of the Avengers' past are cropping up all over Manhattan…and a grounded Captain Marvel refuses to be left behind. Who is the sinister figure behind these incursions and what does it have to do with Carol Danvers' mysterious condition? But is this villain real or just a figment of Captain Marvel's increasingly deadly imagination?
Ad blocker interference detected!
Wikia is a free-to-use site that makes money from advertising. We have a modified experience for viewers using ad blockers

Wikia is not accessible if you've made further modifications. Remove the custom ad blocker rule(s) and the page will load as expected.