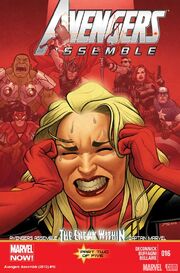 This issue is part of the Enemy Within crossover. It follows Avengers: The Enemy Within no. 1 and is continued in Captain Marvel (2012) no. 13
Solicitation: THE ENEMY WITHIN: PART 2 OF 5
• Who wants YOU for dinner? The Brood!
• Spider-Woman & Captain Marvel declare war on the Magnetron! (Who?)- Hawkeye has a bright idea!