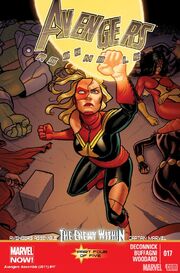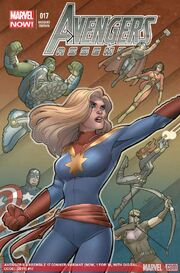 This issue is part 4 of the Enemy Within crossover. It follows Captain Marvel (2012) no. 13, and is continued in Captain Marvel (2012) no. 14
Solicitation: Part 4 of 5 of THE ENEMY WITHIN With the world quite literally ripping apart at the seams, and the Avengers scattered? How much longer can Captain Marvel fend off the madness of the Magnetron??
Ad blocker interference detected!
Wikia is a free-to-use site that makes money from advertising. We have a modified experience for viewers using ad blockers

Wikia is not accessible if you've made further modifications. Remove the custom ad blocker rule(s) and the page will load as expected.