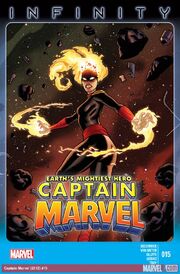 This issue is an Infinity tie-in.
Published: August 28, 2013
Added to Marvel Unlimited: February 24, 2014
Rating: Rated T+
Writer: Kelly sue Deconnick
Cover Artist: Joe Quinones
Solicitation: INFINITY TIE-IN Part 1 of 2, Infinity Event tie-ins, expanding on the capture of Captain Marvel. And Hawkeye! Plus: The return of Binary?! Fisticuffs! In spaaaaaaaaaaaace!