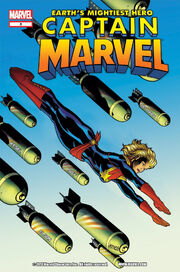 Published: August 29, 2012
Added to Marvel Unlimited: March 08, 2013
Rating: Rated T+
Writer: Kelly sue Deconnick
Cover Artist: Ed Mcguinness
Pencils: Dexter Soy
Solicitation: Firefight in the sky! What are The Prowlers and where has Captain Marvel seen them before? What is Secret NASA training program: the Mercury 13?
Ad blocker interference detected!
Wikia is a free-to-use site that makes money from advertising. We have a modified experience for viewers using ad blockers

Wikia is not accessible if you've made further modifications. Remove the custom ad blocker rule(s) and the page will load as expected.