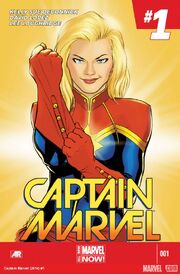 Hero! Pilot! Avenger! Captain Marvel, Earth's Mightiest Hero with death-defying powers and an attitude to match, is back and launching headfirst into an all-new ongoing series! As Captain Marvel, a.k.a. Carol Danvers, comes to a crossroads with a new life and new romance, she makes a dramatic decision that will alter the course of her life and the entire Marvel Universe in the months to come. It's time to go HIGHER, FURTHER, FASTER and more in the most super-powered comic around!
Variant Cover Gallery
Ad blocker interference detected!
Wikia is a free-to-use site that makes money from advertising. We have a modified experience for viewers using ad blockers

Wikia is not accessible if you've made further modifications. Remove the custom ad blocker rule(s) and the page will load as expected.