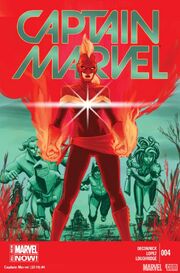 • Captain Marvel has a hunch about the REAL reason behind the forced resettlement of the Rocket Girl's people and sets out with a new crew to find proof!
• Turns out Carol's got a history with the man behind the plot. Rut roh.
• What time is it? When the bad guy tries to blackmail our hero and use the Avengers against her… Could it be PAYBACK TIME?
Ad blocker interference detected!
Wikia is a free-to-use site that makes money from advertising. We have a modified experience for viewers using ad blockers

Wikia is not accessible if you've made further modifications. Remove the custom ad blocker rule(s) and the page will load as expected.