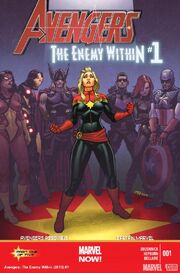 The Enemy Within is a 2013 crossover series between Captain Marvel (2012) and Avengers Assemble, kicking off with a one-shot titled Avengers: The Enemy Within #1. It was written by [[Kelly Sue DeConnick, and includes art by Scott Hepburn and Matteo Buffagni on pencils and inks, and Jordie Bellaire and Matthew Wilson on colors.
Issues included in this series:
Ad blocker interference detected!
Wikia is a free-to-use site that makes money from advertising. We have a modified experience for viewers using ad blockers

Wikia is not accessible if you've made further modifications. Remove the custom ad blocker rule(s) and the page will load as expected.