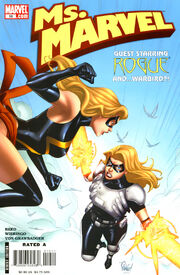 Carol Danvers must face herself and the terrible things she has done. Special guest X-Men Rogue and Beast appear, Carol finds a new romantic interest, and Ms. Marvel's life begins a frightening new chapter... all in one issue! Special guest artist Mike Wieringo (Friendly Neighborhood Spider-Man) joins writer Brian Reed for a very dark moment in the life of Ms. Marvel.
32 PGS./Rated A ...$2.99
Ad blocker interference detected!
Wikia is a free-to-use site that makes money from advertising. We have a modified experience for viewers using ad blockers

Wikia is not accessible if you've made further modifications. Remove the custom ad blocker rule(s) and the page will load as expected.