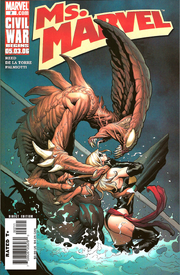 Written by BRIAN REED
Penciled by ROBERTO DE LA TORRE
Inked by JIMMY PALMIOTTI
Cover by FRANK CHO
Invasion! The Brood have come to Earth and Ms. Marvel is the only thing standing in their way. But are the Brood looking to conquer, or are they just looking for someplace to hide? Do NOT miss this issue or you'll miss out on the debut of a frighteningly powerful new villain in the Marvel Universe! As an added attraction, the entire planet Earth might just explode! With words by Brian Reed (SPIDER-WOMAN: ORIGIN), pencils by the revolutionary Rob De La Torre and a cover by Frank Cho (NEW AVENGERS), this issue has got it all!
32 PGS./Rated T+ SUGGESTED FOR TEENS AND UP ...$2.99
Ad blocker interference detected!
Wikia is a free-to-use site that makes money from advertising. We have a modified experience for viewers using ad blockers

Wikia is not accessible if you've made further modifications. Remove the custom ad blocker rule(s) and the page will load as expected.