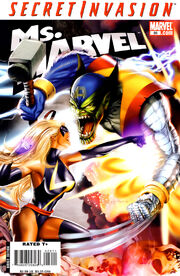 Written by BRIAN REED
Penciled by ADRIANA MELO
Cover by GREG HORN
The SECRET INVASION is here and the Battle for Manhattan has begun. Earth's heroes have been scattered, New York City is under siege and only one hero is left to stand up for humanity -- Carol Danvers -- going to war. All of the frustrations, drama and insecurities of Ms. Marvel's life lead up to this as she takes on an invading horde of Super-Skrulls...and don't put money on anyone green getting out alive!
32 PGS./Rated T+ …$2.99