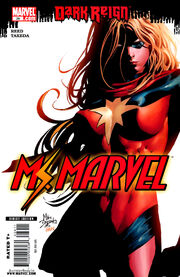 Published: May 28, 2009
Added to Marvel Unlimited: December 09, 2009
Rating: T
Writer: Brian Reed
Penciller: Sana Takeda
Cover: Mike Deodato, Jr.
The Dark Reign is in full effect. Carol Danvers is dead. Moonstone has taken on the mantle of Ms. Marvel. And the only hope for the forces of good is...Machine Man?! Brian Reed & Patrick Olliffe kick off a new chapter in the legend of Ms. Marvel!
Rated T+ …$2.99
Ad blocker interference detected!
Wikia is a free-to-use site that makes money from advertising. We have a modified experience for viewers using ad blockers

Wikia is not accessible if you've made further modifications. Remove the custom ad blocker rule(s) and the page will load as expected.