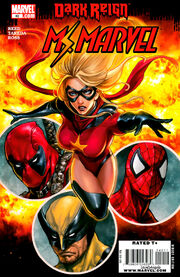 Published: June 24, 2009
Added to Marvel Unlimited: March 12, 2010
Rating: T
Writer: Brian Reed
Penciller: Luke Ross
Cover: Sana Takeda
The Dark Reign continues! What is the secret A.I.M. project that Karla Sofen has stumbled into...and what does it have to do with Carol Danvers? Special guest stars Spider-Man, Wolverine, Luke Cage...and Deadpool?!
Rated T …$2.99
Ad blocker interference detected!
Wikia is a free-to-use site that makes money from advertising. We have a modified experience for viewers using ad blockers

Wikia is not accessible if you've made further modifications. Remove the custom ad blocker rule(s) and the page will load as expected.