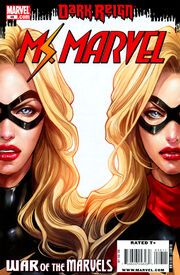 Published: October 28, 2009
Added to Marvel Unlimited: November 30, 2010
Rating: T
Writer: Brian Reed
Penciller & Cover: Sana Takeda
WAR OF THE MARVELS: THE FINAL CHAPTER There's only room for one Ms. Marvel, and both Carol Danvers and Karla Sofen will kill to take the mantle. It's the ultimate showdown of Dark Reign as the lines between good and evil are blurred…and the last Ms. Marvel standing will face the surprise ending of the year!
Rated T …$2.99
Ad blocker interference detected!
Wikia is a free-to-use site that makes money from advertising. We have a modified experience for viewers using ad blockers

Wikia is not accessible if you've made further modifications. Remove the custom ad blocker rule(s) and the page will load as expected.