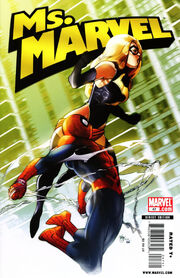 Published: November 25, 2009
Added to Marvel Unlimited: February 08, 2011
Rating: T
Writer: Brian Reed
Penciller: Mark Robinson
The War of The Marvels is over, but before Carol Danvers can deal with it's aftermath, she must brace herself as she faces down the biggest mistake she made before her apparent death…promising Spider-Man she'd go out with him. Brian Reed teams with Mark Robinson (SKRULL KILL KREW) to bring you THE AMAZING SPIDER-DATE!
Rated T …$2.99
Ad blocker interference detected!
Wikia is a free-to-use site that makes money from advertising. We have a modified experience for viewers using ad blockers

Wikia is not accessible if you've made further modifications. Remove the custom ad blocker rule(s) and the page will load as expected.