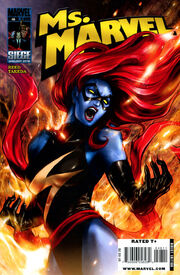 Published: December 16, 2009
Added to Marvel Unlimited: February 15, 2011
Rating: T
Writer: Brian Reed
Penciller & Cover: Sana Takeda
Ms. Marvel vs. Mystique! She raised Rogue, the woman who stole Carol's powers and memories, and now the sinister shape-shifter is coming for Ms. Marvel herself! Yes, the collision readers have demanded since issue #1 is here as the march to the momentous issue #50 begins now!
Rated T …$2.99