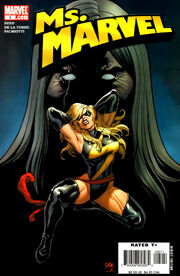 Written by BRIAN REED
Penciled by ROBERTO DE LA TORRE
Cover by FRANK CHO
Time travel. Alternate realities. Time traveling in alternate realities while fighting evil sorcerer, Warren Traveler. Ms. Marvel could use all the help she can get! Thank goodness special guest star DOCTOR STRANGE is around to help!

32 PGS./Rated T+ ...$2.99
Ad blocker interference detected!
Wikia is a free-to-use site that makes money from advertising. We have a modified experience for viewers using ad blockers

Wikia is not accessible if you've made further modifications. Remove the custom ad blocker rule(s) and the page will load as expected.