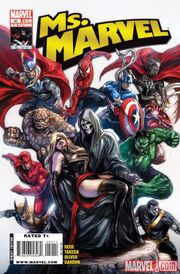 Published: February 24, 2010
Added to Marvel Unlimited: December 02, 2010
Rating: T
Writer: Brian Reed
Penciller: Sana Takeda
Regular Cover: Sana Takeda
Variant Cover: Paul Renaud
Over-sized final issue! It's Ms. Marvel and Mystique in a fight to the finish—and the ending will rock the world of Carol Danvers!
Rated T …$3.99
Ad blocker interference detected!
Wikia is a free-to-use site that makes money from advertising. We have a modified experience for viewers using ad blockers

Wikia is not accessible if you've made further modifications. Remove the custom ad blocker rule(s) and the page will load as expected.