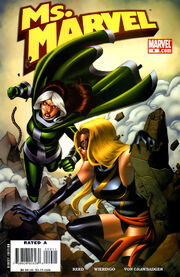 Written by BRIAN REED
Pencils and Cover by MIKE WIERINGO
BECAUSE YOU DEMANDED IT! Rogue appears in the pages of MS. MARVEL! But, if Rogue is a friend, why is Carol Danvers attacking her?! What can Beast of the X-Men do to help? And what does Ms. Marvel's old call sign "Warbird" have to do with ANY of this?! Writer Brian Reed is joined by special guest artist Mike Wieringo in part one of a tingling two-part saga!