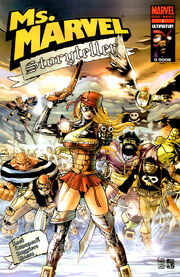 STORY BY Brian Reed
ART BY Giuseppe Camuncoli, Lorenzo Ruggiero
COLORS BY Andres Mossa
COVER BY Giuseppe Camuncoli
COVER PRICE: $2.99
RELEASE DATE Wed, November 5th, 2008
It's Marvel Pirate Mania as the Storyteller returns! Gavin is a young man with the ability to reshape the world in his image, but when he crosses paths with Ms. Marvel once more, dark secrets are revealed, and Gavin's life takes a dark turn. Brian Reed (SECRET INVASION: FRONT LINE) and Giuseppe Cammuncoli bring you a tale where anything can happen... and does!
Ad blocker interference detected!
Wikia is a free-to-use site that makes money from advertising. We have a modified experience for viewers using ad blockers

Wikia is not accessible if you've made further modifications. Remove the custom ad blocker rule(s) and the page will load as expected.